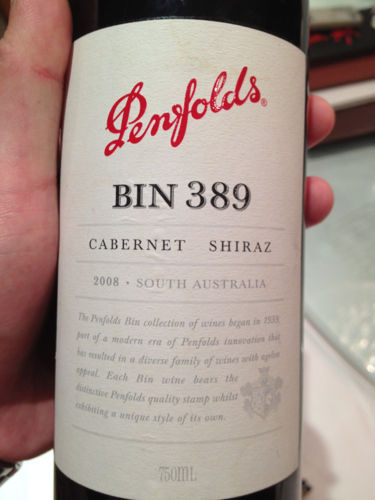 Bin 407 Cabernet Sauvignon
2008
Winemaker's Notes
Color: Dense dark red. Nose: Instantly Penfolds – emboldened by its formic disposition and complexity. Mint/dry herb (rosemary/sage) varietal reminiscences. Wafts of Chorizo (red) sausage; tomato and red capsicum pizza base/bruschetta. Integrated, perfumed oak (polished teak, brown boot-polish).
Palate: Varietally IDd and expressive – green olive and a market-garden foray – broccoli/spinach/broad beans/broad-leaf legumes. Fresh acidity coupled with 'non-shy' tannins induce structural linearity/definition/liveliness. A firm finish. A persistent 'afterglow'. Oak well-hidden, awoken with a swirl.
Food Pairing
Beef
Lamb
Spicy food
Poultry
Regional Style
Australian
Cabernet Sauvignon
Australian Cabernet Sauvignons tend to be
Full-bodied

and have

High Acidity
The home of Cabernet Sauvignon is in Bordeaux. However, Australia has found great success growing it, especially in the regions of Coonawarra and Margaret River.
These Cabs balance the dark, rich fruit that Cab is known for with flavors of mint and eucalyptus.
Learn more about Australian Cabernet Sauvignon.
Price Comparisons Based on Vintages
| Vintage | Avg. rating | Avg. price | |
| --- | --- | --- | --- |
| All vintages | | | |
| NV | | | |
| 2014 | | | |
| 2013 | | | |
| 2012 | | | |
| 2011 | | | |
| 2010 | | | |
| 2009 | | | |
| 2008 | | | |
| 2007 | | | |
| 2006 | | | |
| 2005 | | | |
| 2004 | | | |
| 2003 | | | |
| 2002 | | | |
| 2001 | | | |
| 2000 | | | |
| 1999 | | | |
| 1998 | | | |
| 1997 | | | |
| 1996 | | | |
| 1995 | | | |
| 1994 | | | |
| 1993 | | | |
| 1992 | | | |
| 1991 | | | |
| 1990 | | | |
| 1989 | | | |
| 1987 | | | |
| 1986 | | | |
| 1985 | | | |
| 1967 | | | |
| 1961 | | | |
| 1959 | | | |
View all vintages
Winery
Penfolds
Best Rated Wine from Winery
Most Scanned Wine from Winery